Textile motorcycle jackets have been in the market for some time now, and people now appreciate them. In the past, leather was the only ideal material for motorcycle jackets, but this is quickly changing. People are now learning that textile jackets are still an option.
In the real sense, textile jackets have more advantages that you can't get in leather and this makes it even better. Regarding cost, the textile is also cheaper although this also depends on the type of material that is used.
Why you should consider buying a textile rider jacket
Suitable for all weather
The main disadvantage with a leather jacket is the fact that they get too uncomfo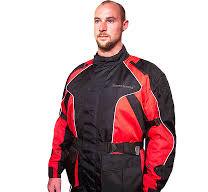 rtable when the weather is hot. Textile jackets, on the other hand, are very breathable. You can be sure that even when it is hot outside you will get breathing space.
Most of the textile jackets do not cling to the body compared to leather jackets. When it is cold, textile jackets also provide the needed warmth. Most of the leather jackets have lining on the inside that adds to the warmth
Water resistant
If you get a good textile jacket, you don't have to worry in case it rains or there is snow. You will be protected by the lining inside the jacket that will keep you dry throughout your journey. Make sure that you inspect your jacket and check the water resistance capability.
Visibility on the road
Most of the leather jackets are either black or brown, and this compromises visibility on the road especially at night. This is, however, different with a textile jacket. Textile rider jackets come in all types of attractive colors and you can always select a bright color that will make you more visible while on the road.
Easy to maintain and clean
A textile motorcycle can be easily cleaned at home using the different cleaning procedures. This is, however, different when it comes to leather. To maintain the quality of leather you have to apply unique cleaning procedures that might not be available at home. In some cases, you have to take your jacket to the dry cleaners for proper cleaning.
Lightweight and easy to carry
Leather jackets are quite bulky, and this becomes a burden when you are no longer riding your motorcycle. Textile jackets, on the other hand, are very light and easy to carry. When you are not riding, you can easily carry them around or fold and store them without taking too much space.